This is a sponsored post written by me on behalf of Char-Broil. All opinions are 100% mine.
I have big plans for our backyard this summer. Oh yes. Big, big plans. I know I say this about different rooms of our house a lot. But I would really like to enjoy our outdoor space much more than we have in the past.
We have a great deck off the back of our house but there are definitely some problems that need solutions.
This is our "before" photo, which was actually taken before we moved in four years ago.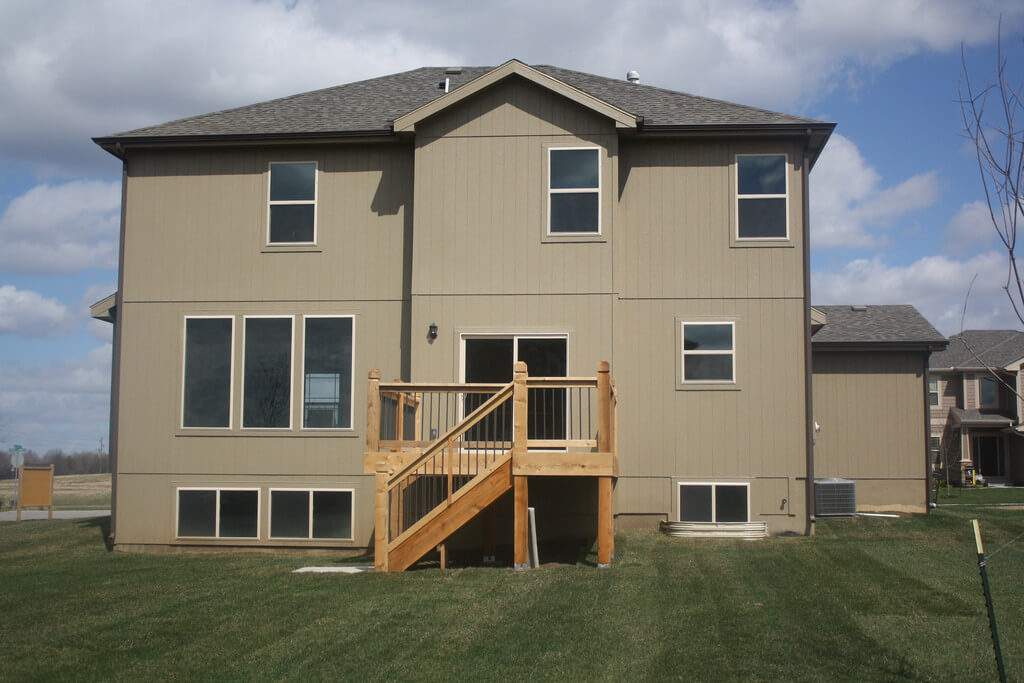 I created a deck makeover mood board to help turn our deck from dull to deck-tacular!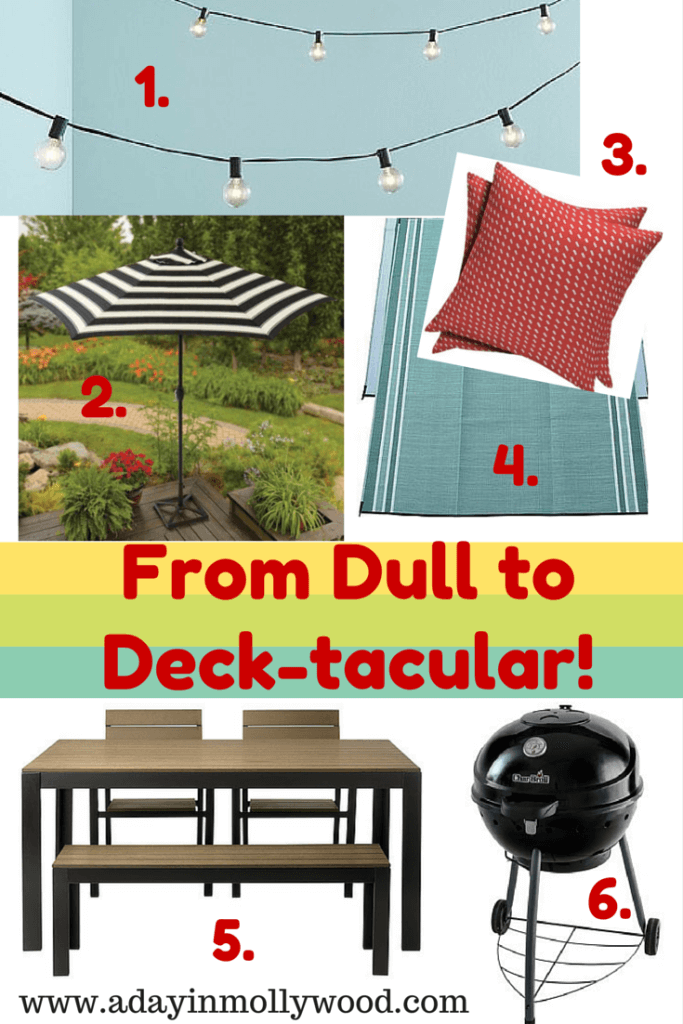 (Psssst, source list is at the bottom so keep reading!)
Okay, onto the problems!
#1. There is absolutely no shade.
Our deck faces the south and it's sun, sun, sun all day. Since it's a new neighborhood there are no mature trees to block the sun and there is nothing overhead. I'm what they call vampire-pale, so I burn within about five minutes of going outside. I would love to write outside on the deck or watch the kiddos play or eat dinner al fresco! We need a big, colorful umbrella to protect us from that blazing summer sun. A pergola is in the future plans!
#2. We need somewhere to sit.
Right now we are rocking a broken bistro set I borrowed from my parents. We used to have chairs and a table but a bad storm took it down! It's pretty pathetic, actually. We have a five-person family and nowhere to sit outside! I would love a beautiful table with benches for the kiddos. I want to bring in bright pops of color with an outdoor rug and pillows.
#3. It's really dark out there at night!
We have one teeny little light on our back deck. And the person who planned our neighborhood apparently forgot about street lamps! So when we're out there it feels . . . kinda creepy. I have already purchased some of those cute outdoor string lights and have a plan to drape them above the deck. It's going to feel so bright and inviting when the lights are up! Party at our house, everyone!
#4. We need to upgrade our grill!
An outdoor space is worth nothing if you're not grilling some fabulous foods, am I right? We love to grill out throughout the warmer months. Whether it be burgers, chicken, fish, veggies or even desserts (banana boats, anyone?), we think food just tastes better straight off the grill. Problem is, we're not so hot on our current grill, pun intended. We've been doing our research and the husband thinks we should buy a new charcoal grill this time around. We've decided on the new Char-Broil Kettleman Grill.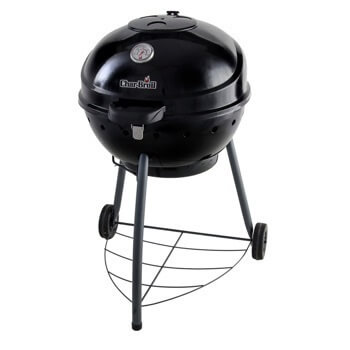 For this busy and hungry family of five – our grill choice is all about convenience. This grill is on wheels so it's easy to move around, it has a removable ash bowl and a no fall-through grate. It also has a hinged lid, which means you don't have to remove it and set it down completely. We grilled out last night and it works like a charm. Our chicken was delicious and clean up was a breeze. Watch the video to learn more about the Kettleman grill.
Here's the full deck makeover source list in case you spy something you'd like for your own outdoor space:
1. Globe string lights – Target
2. Striped umbrella – Walmart
3. Outdoor toss pillows – Target
4. Outdoor patio mat – Walmart
5. Patio table & chairs – Ikea
6. Char-Broil charcoal grill – Lowe's
I love the pops of black, blue and red! So festive, don't you think? I'm ready for a glass of wine and a steak on our new deck!