This shop has been compensated by Collective Bias, Inc. and The Coca-Cola Company, Kellogg Company, J.M. Smucker Company, and The HERSHEY'S Company. All opinions are mine alone. #StartSchoolLikeAChampion #CollectiveBias
Back to School time has arrived already! Like always, we are anxiously awaiting the first day of school. But this year, there may be a few more first day jitters than usual as the boys are starting a new school.
I've thought about ways we can calm their nerves (and mine too!) in this new situation. I don't want it to be stressful for them and I'd love to share a few tips for anyone starting a new school this year.
Ask About Their Fears:
Of course, they may be harboring some fears as the first day gets closer. It's only natural when a big change is involved! We started talking about this change early on and recommend inviting them to ask questions before the first day. It's nice to be able to address any concerns before school starts rather than after.
With the 2016 Olympic Games on right now, it has been a great way to talk about being brave in new situations. Because you know these athletes are nervous too! Team USA sponsors have teamed up with Scholastic to create the Walmart exclusive "Start School Like a Champion" program. This year, they want to make sure your champs start the year like one by providing a free Scholastic book for every purchase of select products at Walmart.
Have a Dress Rehearsal:
That's right! Pretend it's the first day and talk about your new routine. My kids are bus riders so we talk about where their new bus stop is and remind them they will be arriving at a new school this year. Have them pick out their first day of school outfits. Something that makes them feel confident!
Ask them what they want to eat for breakfast on the first day of school. Be prepared with their favorite foods. Make sure there is plenty of time for them to sit and enjoy breakfast. Talk excitedly about all the things they will get to experience at their new school. Including meeting lots of new friends!
My kids love Kellogg's Eggo waffles with JIF peanut butter and fruit on top!
Add in some yummy Minute Maid Apple Juice and they're set with a delicious, nutritious breakfast.
Send Them to School With a Surprise in Their Lunch:
It never hurts to send them a goodie in their lunch box. I love sending them special little notes to remind them they are doing great and that I love and miss them. This year I'm sending them an extra kiss in the middle of the day with HERSHEY'S KISSES chocolates. Just a small gesture to show them I care. I know it's not easy being the "new kid."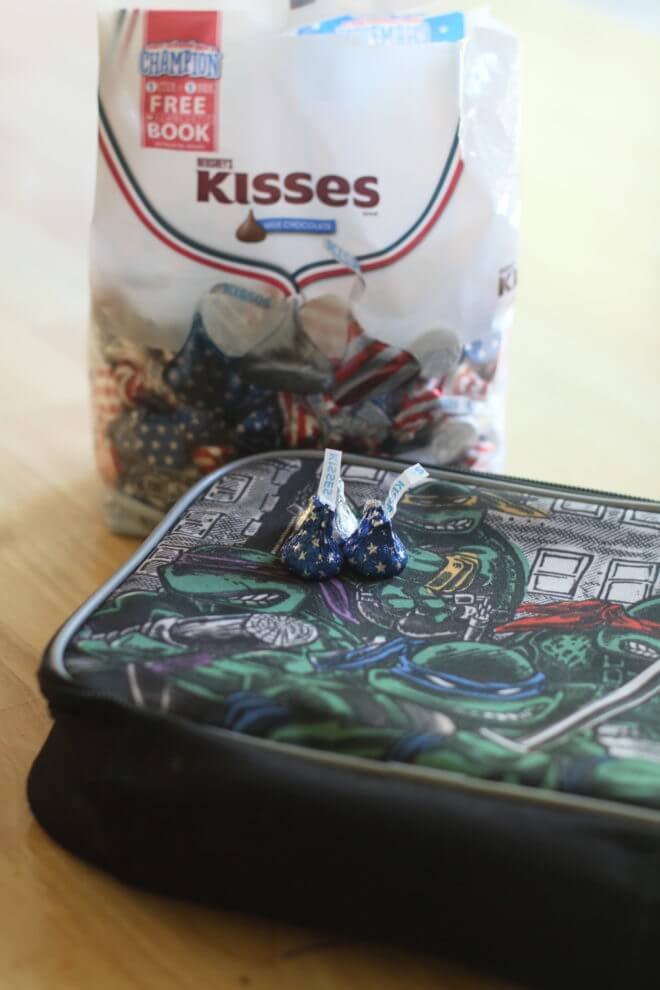 I want my kids to start school like a champion. You can earn a free Scholastic book by purchasing any of the over 100 participating Coca-Cola, HERSHEY'S, Kellogg's, or J.M. Smucker's product at Walmart between 6/29/16 – 9/30/16. Here's how to claim your books!
Buy any participating Coca-Cola, HERSHEY'S, Kellogg's, or J.M. Smucker product at Walmart between 6/29/16 and 9/30/16. For a full list of participating products, refer to StartSchoolLikeAChampion.com.
Join or log in to Kellogg's Family Rewards.
Upload your receipt within 30 days of purchase.
Choose or donate your free book.
How do you get your kids ready for school?