Roxie's two week post-op check up was yesterday. Naaman and I were both worried that the vet would say that her pins had come out of place. I prayed last night that they hadn't because I didn't want Roxie to have to go through another surgery. The vet was encouraged when he realized they hadn't come out of place. He said for as young and active as she is, and as bad of shape as her knee was in, it's a miracle that they are healing properly. He did recommend two more weeks in the playpen with little movement or playtime. We can take her out for very short walks in order to start building up the muscle again.
This is her with a very big, ugly scar on her little knee (shhh, don't tell anyone I was lifting her)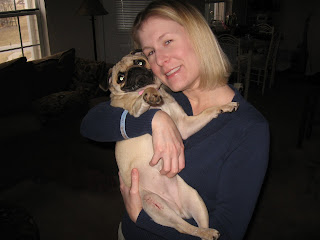 We were supposed to go to Vegas over the weekend but my comfort level as far as pain goes just isn't there yet. Plus, there was no possible way I could walk around for hours or carry any luggage around. I am not supposed to do any physical activity for an entire month. I go for my second epidural treatment next Wednesday. I'm not look forward to it at all. I don't sleep soundly because I can't get comfortable no matter what position I'm in (there's only two I can even stand at this point). So, I wake up really tired and cranky. Of course, who wouldn't be in a cranky mood if they had constant pain. It's like someone is stabbing me in the neck and I just want to turn around and say, "Hey, stop it. That's not nice." Oh, how I wish . . .
But I will be okay. I am aware that things could be much worse. We're just having a tough period right now and we will come through it. What doesn't kill us only makes us stronger.