Let me go back a little in order to tell this story. My 29th birthday was December 6th. It was a nice day. My parents came over to our house around 8:00 p.m. when Naaman got off work to have cake. For as long as I can remember, my parents have sung happy birthday to me and I've usually had a cake with Santa on it or the like due to the fact that I'm a December baby. We only had one candle so I put it on there, lit it, they all sang to me while I made a wish and then I blew out the candle. I looked right into Naaman's eyes when I blew out the flame. You see, little did my parents know that Naaman and I had been trying for a baby since September. And that's exactly what I wished for . . . a baby for Naaman and I.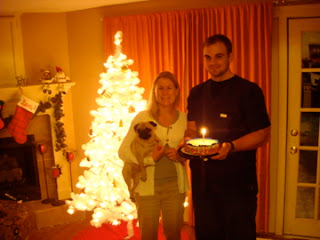 Here we are shortly before making a wish and blowing out the candles.
The next morning was a very lazy one. I had taken off work for two days so I had just planned on a day of relaxing in my pajamas for half the day. At around noon I realized it was time for me to take a shower and stop being a lazy good-for-nothing so I got up and just as I got up I felt incredibly dizzy and had to sit back down. I thought to myself, hmmmm. I'm sure it's probably not because I'm pregnant but those darn pregnancy tests are so sensitive now I'll just take one and ease my mind before I continue with the day. I took the test, set it down on the sink and went about my business knowing all along that I wouldn't see a second line. Little did I know that three minutes later my life would be forever changed.
I glanced down and quickly noticed a faint second line. I then proceeded to hyperventilate while talking to myself. No, that's not really a second line. My eyes are playing tricks on me. This can't be real. The smile was instant and I couldn't stop giggling and laughing. Then the tears came. The tears were streaming down my face. I was so happy. Finally, after years of waiting until the perfect time, Naaman and I were going to be parents.
I knew that I couldn't tell Naaman over the phone. He would be home in about 8 hours and I had to plan a fun way to tell him. I ran to Target to get a digital test. I wanted to see the word "Pregnant" to make it more real.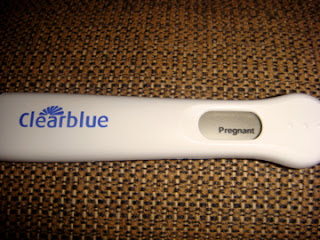 Those hours were the longest of my life. I imagined what he would think, what he would say, what he would do. I had been dreaming of this moment for quite some time. We had just put up our new white Christmas tree and beneath it I had placed a gift bag with the positive pregnancy test in it. When he got home I told him that I had an early Christmas present for him but it couldn't wait until Christmas.
He walked around and said he needed to change his clothes. I almost blurted it out because he wasn't fast enough about opening the gift. Finally he sat down and opened the gift. He lifted up the test in the light, turned around to me and said, "Really?" All I could do was nod my head yes. I was already crying too hard to speak. He started smiling and honestly, hasn't stopped since. I think I made him the happiest man alive right then and there! He ran over to me and picked me up and we just laughed and cried. It was truly the best moment of our lives.
P.S. If you look below you can see a picture of the "present" beneath the tree. That is shortly before Naaman came home to find out he is going to be a Daddy.
Today was our first OB appointment. It was exciting and made it more real. Speaking of more "real" the second I got home I threw up for the first time. It doesn't feel great but I am still rejoicing. There is a miracle growing right inside of me and throwing up means he/she is ready to let Mommy know they're in there : )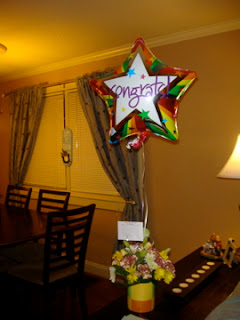 I love my doctor. I can choose which doctor and hospital I feel most comfortable with and I love that. This is our first baby and I want this experience to be as enjoyable as possible. I am confident everything will go smoothly and extremely happy that I get to experience this for myself. Everyone's experiences are different and I can't wait to see what the future holds for our little family. We get our first ultrasound on January 8th to more accurately date the pregnancy and make sure everything is moving along as it should. But right now it looks like August 19th is the lucky due date. I think of August as a very special month for us. This is the month I met Naaman, the month I married Naaman and now the month I will have Naaman's baby. I feel so lucky.
Thank you so much to all of our wonderful family and friends for the well-wishes and happy reactions. Naaman and I feel so lucky to be embarking on this journey together and the only thing that could make it sweeter is the love we have received from family members. One thing is for sure . . . this baby will be loved and adored by many. We can't wait until August!!!
Thanks for the flowers Cindi and Corey!