I grew up in a house filled with music. My dad has been a high school band director for more than 40 years. When I was young he always conducted the pit orchestra for the musicals put on by community theater. I think this is where my love obsession of musicals came from. Grease, Les Miserables, Phantom of the Opera. I'm not picky. As long as there are real people standing on a stage singing and I'm watching them I'm pretty darn happy. By the way, did you know my pug Roxie is named after the main character in Chicago? I just spelled it differently to throw people off. Yep, I'm obsessed.
You may be wondering what my favorite musical of all time is. Oh,  you're not? Well, tough cookies. I'm gonna tell you anyway.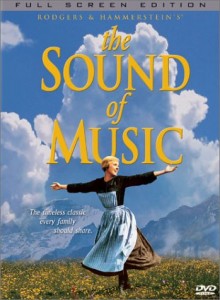 That's right. The amazing classic, The Sound of Music. What could be better than Julie Andrews twirling atop an Austrian mountain? To me, not much.
Now before you call me lame and click unfollow just hear me out.
I know everyone out there has dreams. Some are big. Some are little. The little dreams we rarely talk about aloud lest people think we're weirdos.
I've talked about my big dreams on here already. I'd like to publish a novel. I'd also like to open my own wedding venue.
But a smaller dream of mine is to be in a musical. I'm not talking Broadway because, hello, that ship has sailed. I'm talking about a simple community theater production. And I'm not even talking about playing one of the main characters. I'd be pleased as punch just to sing along in the chorus while dressed in a ridiculous costume and covered in heavy theater make-up.
I did a couple little plays in high school. Nothing big or life-changing. But I distinctly remember that nervous rumble in my tummy right before it was my turn to go on stage. They were good nerves. I realize not everyone lives for that nervous feeling before a performance. But I do. I really do. I miss that feeling.
If I'm being honest I'll tell you that my real dream would be to play the part of Maria in The Sound of Music. It would be the role of a lifetime for me.
I know every word to every song. I sing along to the movie.
You know that scene where the nun is singing the jaw-dropper song?
A dream that will need
all the love you can give
Every day of your life
For as long as you live
Climb Every Mountain
Forge Every stream
Follow every rainbow
Til you find your dream
It sends chills down my spine. Every time. I hope I get a chance to sing these songs someday. I know it sounds simple and kind of silly. But "the hills are alive" for me. And so is the dream.
Do you have any little dreams you don't talk about?