I am delighted to welcome Carla of Mini Munchers for today's Travel Bug Tuesday!
A ten-year resident of Manhattan, Carla Sullivan is the founder and "Mommy Muncher" of the internet's only source of kid-friendly restaurants in New York City, Mini Munchers! Seriously, if you are a parent living in or around NYC or you plan on going there with your kids you must check out this website! Why can't we have a website like this for every city? I would ask Carla to do that for us but she just had baby #3 so I think we'll give her some time to work on that little project first, don't ya think? But I think what she has done with her site is pure awesome & I'm so glad she is here to share it with my readers!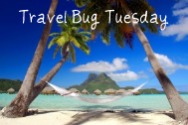 When venturing into New York City with kids of ANY age – it is important to have a pretty good idea of where you want to go and when. And who doesn't want to WOW their kids with a great FUN restaurant…a happy kid is a happy parent!
Not sure where to go in the BIG APPLE? Here are a few spots that my two little Munchers (5 years and 2 years old) and I agree are sure to please the whole family!
SIGHTS
The New York City Police Museum
www.nycpolicemuseum.org
P – 212-480-3100
The NYC Police Museum features an interactive Junior Officers Discovery Zone for children 3-10 to learn about Police. The exhibit is divided into 4 areas: Police Academy, The Park and Precinct, Emergency Services Unit and a Multi-Purpose Area. Activities for children include driving and taking care of a Police Car, `The Sounds of New York', a magnet board with Police Officers in uniforms and a climbing structure. Older kids can participate in the crime scene observation activity and face challenges similar to those of the Police Academy.
Children's Museum of Manhattan
www.cmom.org
212-721-1223
With 5 floors of fun and educational entertainment, the Children's Museum of Manhattan is NOT to be missed. From crawlers up to 7/8 years old, the Children's Museum is a can't miss destination! Minis of all ages enjoy the interactive exhibits on every floor (i.e. fire truck, NYC bus, grocery store and sand box) and when the weather turns – there is a whole outdoor water area (with rubber aprons!) for them to get their splash on!
Central Park
www.centralparknyc.org
It has to be said, NYC is home to one of the most beautiful parks in the country (or so us NYers think). Stretching 843 acres through the center of Manhattan, Central Park has some great playgrounds as well as fun and reasonably priced children's attractions – from the Central Park Zoo (www.centralparkzoo.com) and the Swedish Marionette Theatre to the Carousel and the Metropolitan Museum of Art (www.metmuseum.org) . You could spend an entire vacation just exploring this fun locale!
The Highline
www.thehighline.org
Stretching from Gansevoort Street to West 20th, this elevated park has beautiful plantings and great open spaces for you and your kids to explore. The Highline has varied day and evening programming from yoga and walking tours to astronomy. The dog-free park even has monthly family programs. You can access the park at Gansevoort Street, 14th Street, 16th Street (elevator access), 18th Street and 20th Street.
Scribble Press
www.ScribblePress.com
212-288-2928
Created by two moms as a place for children to write, illustrate and publish their own books, Scribble Press (two locations) will keep children of all ages occupied for HOURS. There are three types of books to choose from; Cueprints (a 6-page fill-in-the-blanks story to finish and illustrate), Author/Illustrator Kit (cover and 14 pages – assembled and bound when your child is finished) and Customized Books. My favorite part is the child photo they take to include in the "author information" section on the back of each book!
RESTAURANTS
1. Ellen's Stardust Diner (www.ellensstardustdiner.com) The wait can be a little long at this Times Square institution, but kids of all ages get a kick out of the singing aspiring Broadway performing waiters and waitresses. The food is nothing to write home about – but the menu is extensive (even the pickiest eaters will find something) and the built-in entertainment just can't be beat.
2. Blue Smoke (www.bluesmoke.com) – Tots love digging into the RIBS at this Murray Hill "Urban Barbeque" joint – and the Wikki sticks and cool communal bathroom sink are fun kid features. A great addition – the server brings your child a cookie to decorate, which is baked during your meal – and presented in a "to go" bag with the check. Most weekends it is difficult to find a table without kids – must be the varied children's menu that includes dessert (the cookie is a bonus!) and uber-friendly staff. Sunday's Blue Smoke's Jazz Standard has a kid's jazz brunch (all the musicians are kids too!) that is a real treat for kids 3 and up!
3. Ruby Foos (www.brguestrestaurants.com) – When headed to a show or to check out the scene in Times Square, do not get sucked into a touristy restaurant with sub-par food and over-the-top prices. Ruby Foos is a great restaurant to visit with children, yes they have grilled cheese and hot dogs but more adventurous eaters might want to try the spare ribs or the steamin' shrimp dumplings (they even have a gluten-free menu!). Kids will also get a kick out of the free Oragami lessons every Sunday from 11:30-4pm, not to mention the "Dirt `n Worms" dessert, a chocolate pudding topped with Oreo cookies and gummy worms inside.
4. American Girl Café (www.AmericanGirl.com) – No visit to NYC with a girl aged 5-10 is complete without AG! The food is surprisingly good (for both adults and kids!) and who can resist the teeny highchairs for your tot's doll! I personally love the questions on each table ("What do you want to be when you grow up", "Who is the person you admire most", etc.) to stimulate fun and entertaining conversation between you and your mini!
5. Moomah (www.Moomah.com)- Moomah is a unique spot in TriBeCa. Not only is the extensive menu local, seasonal AND organic (with dairy-free and gluten-free choices) but kids are encouraged to play while they eat with incredibly beautiful and engrossing art projects! What's more, if you visit on a Saturday, the back room, usually reserved for private classes, is transformed into a "funky forest" for children to explore and use their imaginations. NOTE: they are closed on Sunday's for special events so make sure your visit is on a Saturday or weekday!
HAPPY MUNCHING!