Finally! It's time to reveal Landon's bedroom. It only took, oh, three months. Hey, at least it's done! Like I told you I am not a designer. But this room has my heart in it. When we visited this house before it was even ours he told us he wanted a "planet" room. He loves the solar system. Far be it for me to deny him what he wants. It's his room after all, not mine.
Now, I know a lot of people wouldn't go for this paint color. I wanted something unique and bold. My mistake? Buying paint from walmart to save money and skipping the primer. Ugh. These newbie mistakes led to a three-coat paint job that could still could use a fourth. But I gave up because I have had enough of orange fingernails! By the way, orange is very hard to photograph.
Anyway, I don't really care that it's not everyone's cup of tea. The only person I am trying to impress is my son. I wish I had a photo of the first time Landon saw his room. His eyes were as wide as saucers and he just gasped. He thinks it's the best thing ever and tells everyone about his cool room when they come to our house. My favorite time is when all four of us crawl into his big bed and read stories and give each other night-night kisses.
Enjoy the tour!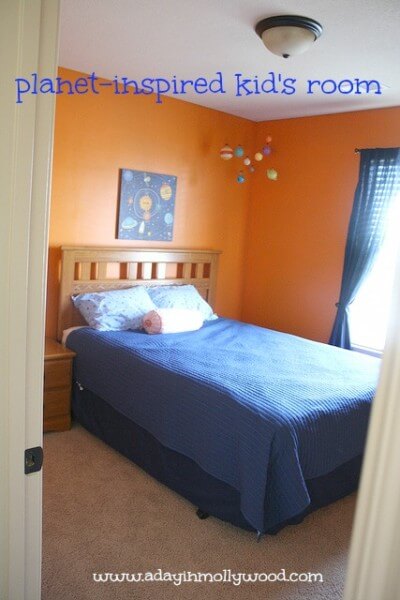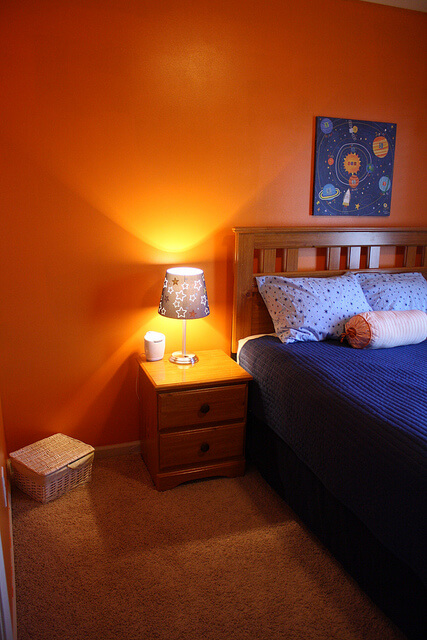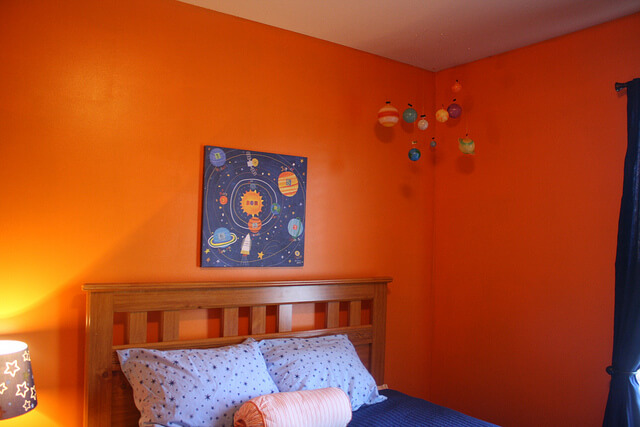 So there you have it! I hope you enjoyed the tour! I'm breaking it down for you in case anyone wants to know where I got something. I have linked it to the specific item where possible.
List of Items:

Paint color: Pumpkin Patch by Glidden (recommend the color but not the brand)
Furniture: previously used by my parents and gifted to us!
Blue curtains: Target
Blue bed skirt: Target
Comforter: Target (it was on clearance and I can't find it anymore)
Bolster pillow: Target
Star sheets and pillow cases: Land of Nod
Solar system painting: Target
Ceiling solar system: Land of Nod (glows in the dark)
Star Lamp: Target (also glows in the dark)
Neptune hanging: Esty seller Hop Skip Jump
Star light, star bright hanging: Hobby Lobby
Repurposed mirror frame: idea and directions found on this blog
Moon globe: thrifted and given to me by my lovely friend Suzanne (Landon LOVES it! Thank you!)
"Moon and back" block: thrifted
Polaroid frames: Bed Bath & Beyond (these are awesome & can be easily changed)
Photos in the frames: Space flashcards from the $1 spot at Target! Hurry! (I cut them to fit)
I should have just made a list of "what I didn't get from Target" =)
I hope that helps someone. Stay tuned for more house stuff this week!