On Tuesday, we had to do the thing that no pet owner ever wants to do. We had to say goodbye to our sweet pug Reubin.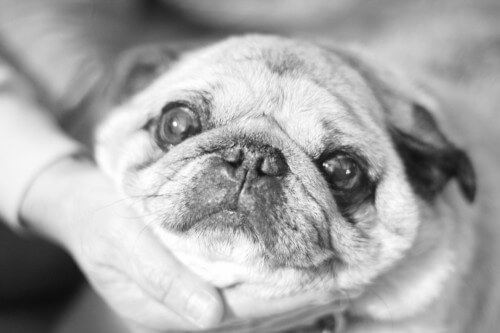 For years, he had been unable to use his hind legs very well at all. But over the weekend they gave out completely and his kidneys were also failing him. We wish we hadn't had to make this decision. No matter what anyone says, your pets become little family members. Then suddenly they're gone and there is a big hole in your heart.
Reubin came to us twelve years ago. I will never forget his sweet pug smile. His bright pink tongue that stuck out all the time. His tail that curled so tight with happiness. He wanted nothing more in the world than to sit by you. If you held your hand out it was inevitable that he would find a spot right under it and rub up against it until you started tickling his head. He loved to have his head tickled.
It had been a long time since I had seen him run. His legs used to be so muscular and he would chase squirrels and rabbits and follow our cocker spaniel chip around my parents' three-acre backyard.
He was a good dog and our whole family hates to lose him. But it was finally time to say goodbye. He is now buried in a lovely spot, on a hill in the backyard that was his whole world.
He could no longer run on earth. But I'm sure he is running like crazy in heaven.
Goodbye, sweet Reubin. We will never forget you.