Valentine's Day is coming up quick and what better way to mark the occasion than with a beautiful new piece of jewelry for yourself (or a loved one)! When Blue Nile contacted me about offering one of my lucky readers this gorgeous sterling silver branch necklace I jumped at the chance. I love their website and I'll let you in on a silly little secret. Before I was engaged (circa 2005) I used to hop on their website and design engagement rings when I got bored. Try it. It's super fun. Especially when you design yourself a $650,000 diamond ring. A girl can dream, am I right?
They have every kind of jewelry you could ever want at all price ranges. Now, I will admit that buying jewelry and accessories kind of took a back seat when we started to be more frugal with our money. That's why I was so happy when they offered to send me one to wear as well as one for a reader.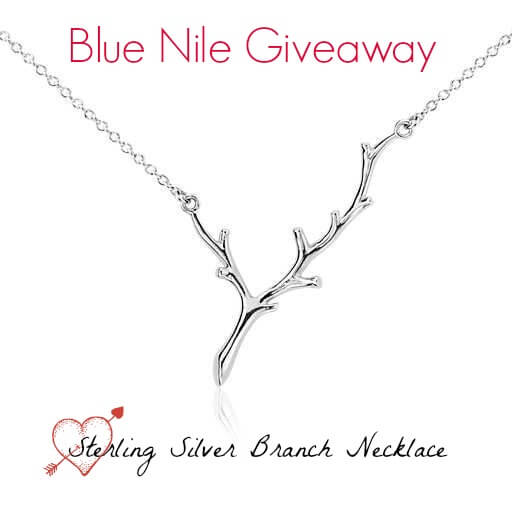 I wore it to work and I got so many compliments on it. It is small enough not to be gaudy but unique enough to make a statement. It's different than anything I've seen lately. I know you'll adore it.
So go ahead and enter to win. I made it easy. Just like my blog and Blue Nile on Facebook. That's it! You don't even have to leave a blog comment. I'll choose a winner next Friday on Valentine's Day!