I love being able to breastfeed my girl. But there is one thing I do not love about it . . . pumping. I really truly hate it. But as a working mama it is a necessity for me to pump while I am away from her. I am so grateful for my amazing pump. It allows me the chance to provide Sawyer what she needs to grow while not having to compromise our breastfeeding relationship!
I went back to work full-time when she was eight-weeks-old and I knew I would need a good pumping routine if I wanted to continue breastfeeding her. I pump 3-4 times a day and collect anywhere from 18-24 ounces, which appears to be plenty for our growing girl.
I received a free pump thanks to our insurance company but it did not come with a tote bag. I reverted to using the black bag that came with my older pump. But I quickly realized that it wouldn't hold much. It's a fairly long walk from the parking lot to my office so I began researching bags that would work for toting my pump and all the accessories. I was so flippin' excited when I found out about Nurse Purse!
I snapped a quick selfie in the elevator so you can see how large and beautiful the bag looks. I bet you can't tell it's a special bag for pumping moms at all, can you?! But unzip the compartment and BOOM – it's time to pump some milk for the lil' babe!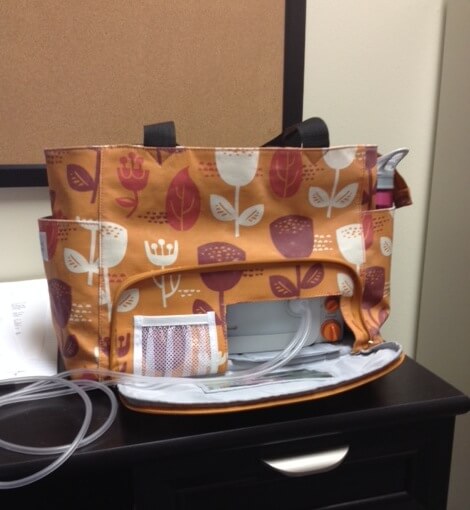 Some days are more stressful than others and on those days I find that my milk output can be less. I had always heard that you should look at a photo of your baby to encourage let down. My heart went pitter-patter when I saw a special place for a picture of my girl! When I scoff at the idea of having to pump yet again – right inside is an instant reminder of why I'm doing this.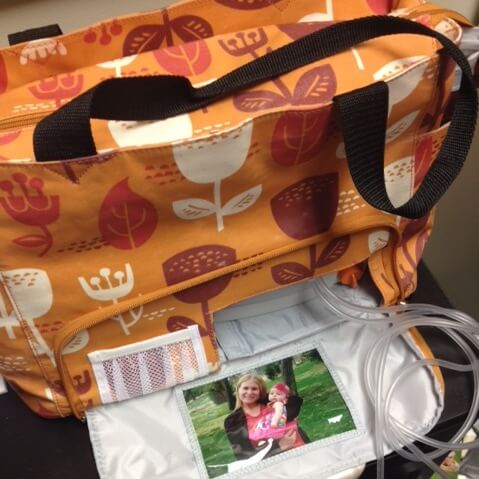 Let me tell you what all fits in this beautiful bag! A full size pack-it where I store my pumped milk and pump parts. My hands-free nursing bra. My double-electric Hygeia pump. I keep chapstick, nipple cream and tylenol in the zipper pouch. A huge water bottle and protein bar fit in one of the compartments on the outside. Gotta stay hydrated no matter where I am! And I just know I could slide my Macbook in there as well.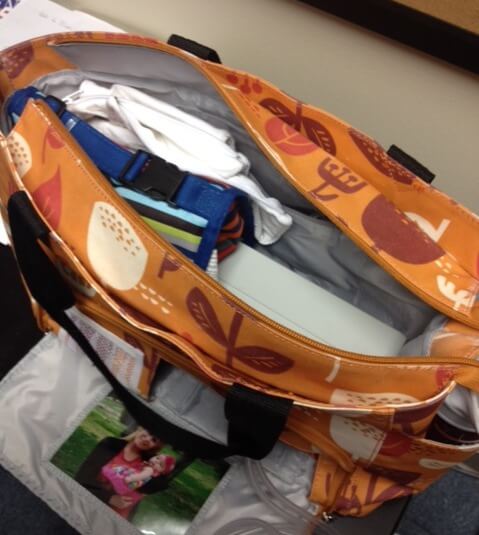 Basically this Nurse Purse is capable of carrying everything I need to have a successful work day of pumping. The fact that I don't have to carry three separate bags into the office is pretty amazing. But the absolute best part? I have already gotten TONS of compliments on this bad boy. Everyone wants to know where I got it and I'm way too excited about this find to keep it a secret. Most women can't believe that it's made for nursing moms. They seem stunned when I tell them its actual purpose.
But I think it's pretty cool that I can use this bag even after I am done pumping. It's water and stain resistant so I know it will last a long time. I see this being a great bag for a couple upcoming road trips we have planned.
If you're a nursing mom who is in need of a bag to carry your pump and all of the stuff that comes along with it I guarantee you're going to love these pretty Nurse Purses!
Nurse Purse provided me with a complimentary Wildflower Nurse Purse in exchange for my honest review. I received no other compensation and all words are my own. I believe in this company and I know you will love it too.