There are so many wonderful snack choices at Aldi so I plan to highlight some of my faves this month. The first thing you should know about me is I have a serious sweet tooth! I have found this to be even more true while breastfeeding my daughter. I crave anything sweet! But as we all know sweets can be pretty terrible for you. Thankfully, Aldi has some awesome choices for healthier sweet snacks.
These Fit&Active fruit strips are my go-to snack when I'm craving something sweet but don't want to inhale ten cookies. They are 45 calories and don't contain anything artificial. They pack a punch of vitamin C and after I eat a couple I find that I am satisfied because they are delicious. My kids happen to love them too! Only $1.99 a box.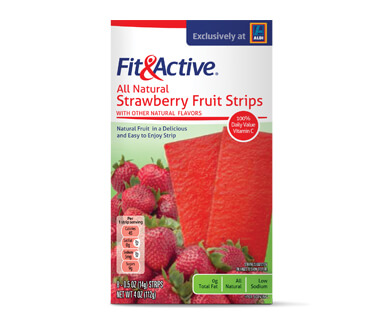 Protein bars can be expensive. But Aldi's Fit&Active protein meal bars aren't too bad at $3.99 a box. It's like a healtier version of a candy bar and 11 grams of protein! I often use these to combat that 3:00 p.m. slump.
I also love Friendly Farms greek yogurt and it is cheaper than I have found anywhere else! They have peach, blueberry, strawberry and sometimes pineapple, which is delicious!
But I was probably way more excited than I should have been when I realized that Aldi is now selling almond butter! Almond butter is so yummy but it is expensive! Aldi has it for $4.99!  I put almond butter on celery or apple slices for a crunchy, sweet snack.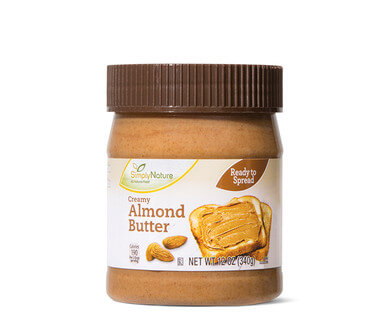 What about you? Do you have any favorite Aldi snacks to satisfy your sweet tooth?