This #ExtraGumMoments shop has been compensated by #CollectiveBias, Inc. and its advertiser. All opinions are mine alone.
Landon's winter break from school is upon us. I cannot believe the first half of the school year is already over! Didn't he just begin?! As parents this has been our first school experience and one thing is for sure – it was a BIG adjustment for us all. But we've made it through and I can definitely see that he is growing in so many ways.
This holiday season, as I reflect on the people who have meant the most to us over the past year, I am extra thankful for Landon's kindergarten teacher. She has been such a huge support to our son and to us as we make this transition into elementary school.
We email back and forth quite a bit regarding what's going on in the classroom. She shares things with me weekly and the communication between teacher and parent has been stellar. We also receive a weekly newsletter from his teacher and from the school. When I have questions she is quick to answer me through email or by phone. She is also always at the school activities checking out what the kids are doing. I feel like she goes way above and beyond what's expected of her as a teacher.
Obviously, I can't be there at school with him and it's a hard thing trying to let go for the first time. But I kinda feel like there's an extra special person looking after him. I feel like when you get extra you should give extra! So Landon and I decided to create a Christmas present to give to her.
Since I've been trying to step it up in the kitchen I decided to be ambitious and make homemade peppermint patties. Although a bit messy I couldn't be more thrilled with the outcome! These are seriously delicious!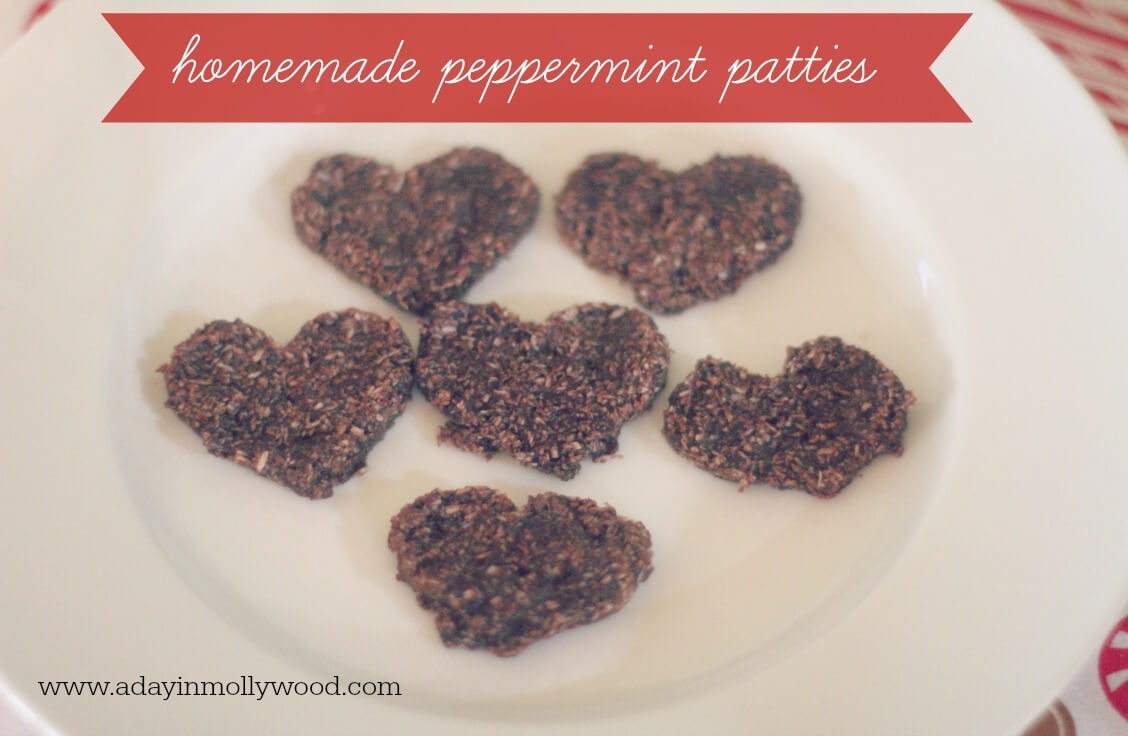 Homemade Peppermint Patties
Prep time:  
Cook time:  
Total time:  
Serves: 1 DOZEN
Ingredients
Unrefined coconut oil
Cocoa powder
Shredded unsweetened coconut
Vanilla extract
Honey (I used wildflower but you can use agave or maple syrup)
Peppermint oil (or extract)
Instructions
First step is to make the coconut blend. Put 1 c. shredded coconut, 2 tsp. honey, 2 tsp. melted coconut oil. Add four drops of peppermint oil (more or less depending on how minty you want it to taste!). Blend until it looks crumbly. Dump it out of the blender and set aside.
Second step is to make the chocolate (yummmm). You'll need to clean your blender before you start. Put ½ cup melted coconut oil, ½ cup cocoa powder, ¼ cup honey, ½ tsp. vanilla extract. Blend until it's sticking to the sides. Use a small spatula or spoon to get it out. I find that putting it in the microwave for 10 seconds makes it meltier and easier to work with.
Third step is to pour it on the coconut blend you set aside earlier. Use your hands to mix it all up together. Note: This is messy but totally worth it in the end.
Roll into little balls and set on wax or parchment paper. If you want you can get really cute and creative and press into a cookie cutter shape. I used a small heart.
Put in the freezer for 20 minutes and voila! You've got yourself some yummy homemade peppermint patties!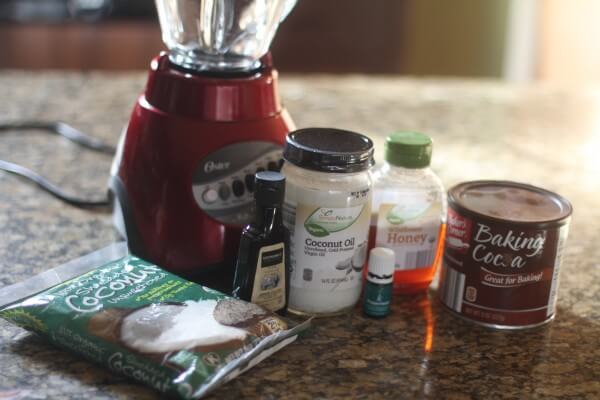 For something a little "extra" we added the initial mug and some extra gum in mint chocolate chip. Since we ended up with a minty theme, the card Landon wrote to his teacher says you were "mint" to be my teacher! Cute, right? We thought so. Once the chocolates have frozen you can wrap them up and put them in the mug!