I'll admit, I haven't always had the best quality of life at work. While I enjoy being a working mom in my current role it most certainly hasn't always been that way in the past. The challenges I have faced were not fun and I know there are plenty of working moms who are in that situation now.
I have finally realized that a company's understanding of Quality of Life is what is MOST important to me when I consider working for them. For me, it's no longer the salary or the title that matters. It's whether they are valuing my time as an employee AND a mom.
I am so grateful to finally be able to say that I have found the perfect mix of both. A job that helps me achieve my best at work and at home. I've never had this before and let me tell you, it's nothing short of amazing.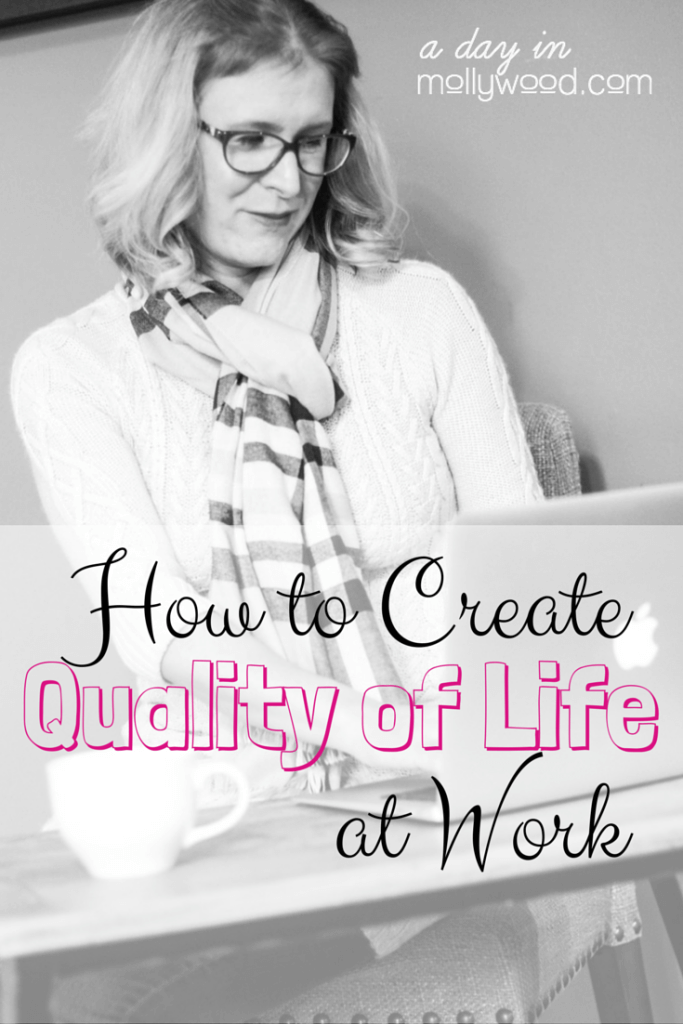 These are just a few of the ways that the company I work for helps to create a wonderful Quality of Life for their employees.
1. Health & Well-Being:
Not only are amazing health benefits offered but they go above and beyond what is expected to encourage us to stay well. They offer yoga classes on site and many employees go walking during their breaks. They also have a weight watchers group you can join if you want to lose weight. The sick leave and vacation offered are more than I have ever had before and employees are not made to feel bad if they (or their kids) are sick and need to stay home or go to the doctor. I mean, would you rather that person come in and spread their germs all over you? NO. Stay home and please don't feel bad about it!
2. Ease & Efficiency:
My role (and my awesome boss) allow me the freedom to work from home. We all have laptops and cell phone allowances. Right now, I come into the office three days a week and work from home two days. It is the PERFECT schedule for me. The work week is 37 hours per week too! I am able to get a lot of work done on my work from home days because there are less interruptions but I can still easily communicate with my teammates as well as access all my files and emails from home. Many of my coworkers will work remotely if they have a day of conference calls or projects due that require more concentration. Employees are trusted to do their job and as a professional that feels really, REALLY good.
3. Recognition:
I know what you're thinking. Why do employees need recognition in order to do their jobs? My answer to you is – there has been a ton of research done on this topic. When employees are praised and recognized for a job well done they are more likely to keep up the good work. Make sense? It sure does to me. At my current job we have something called "Kudos." When someone does something awesome you can write it on a Kudos card and put it up on the bulletin board for everyone to see. There are also other awards given out as well as a Customer Service and Celebrations committee that gives shout-outs at staff meetings and plans celebrations for work anniversaries and birthdays. It's just those little extras that help motivate employees to thrive in their jobs.
This post is part of International Quality of Life BlogIt Day, sponsored by Sodexo. All opinions are my own.