Planning meals has always been my downfall. Seriously, have you ever panicked when 3:00 p.m. rolls around and you still don't know what you're having for dinner? Well, you know you're more likely to order pizza and spend $30 that wasn't in the budget.
We were spending way too much and eating really unhealthy foods. Enough with that, I say!
I have tried many different ways to meal plan but none of them have stuck. Until recently! I finally found a way that works for me and low and behold, I'm even having fun with it!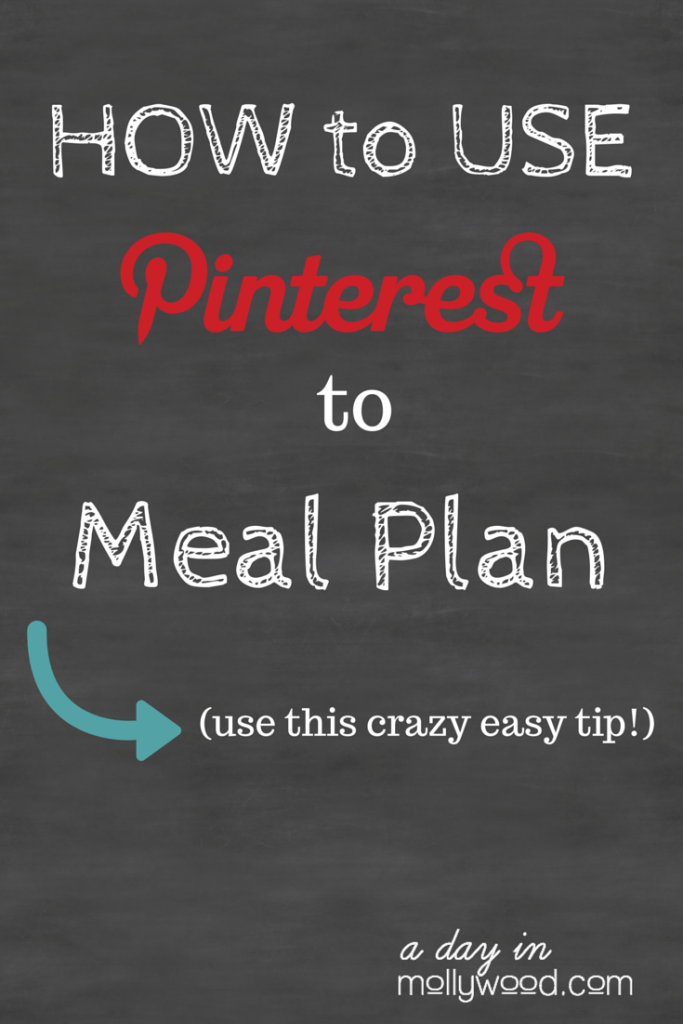 Have you ever wondered what those secret boards are for? When you create a secret board and pin things to it – no one else can see that board and what you're pinning but you (and anyone you personally invite to view it).
Since I don't have a lot of cookbooks or personal recipes, I find the majority of what I'm fixin' on Pinterest! I already have a great board filled with tons of yummy recipes but it's getting pretty full.
So what's my secret? SECRET BOARDS!
I create a new secret board each Sunday morning and call it "Week of 2/2″ (or whatever week it may be). You can work ahead if you're an overachiever. I have the Pinterest app on my phone, my tablet and pinterest is on my desktop obviously so I have access to my weekly menu no matter where I am or what I'm doing.
I can lounge on the couch on a lazy Sunday morning while perusing Pinterest and pick out my weekly menu. It is sooooo easy to do it this way. Why do I keep it a secret? Well, because I may be pinning 10 to 12 pins at a time (breakfast, lunch, dinner) and I don't want to overwhelm my followers! Plus, it is so easy to find the recipe I made in previous weeks.
Your husband might say, "Hey remember that delicious soup you made in October?" and you'll probably reply, "Ummmm, no." Just hop on Pinterest and search for the weekly menus you made in October.
Another good tip is to use the board description to list out all the meals for the week. When you're done it will look like this.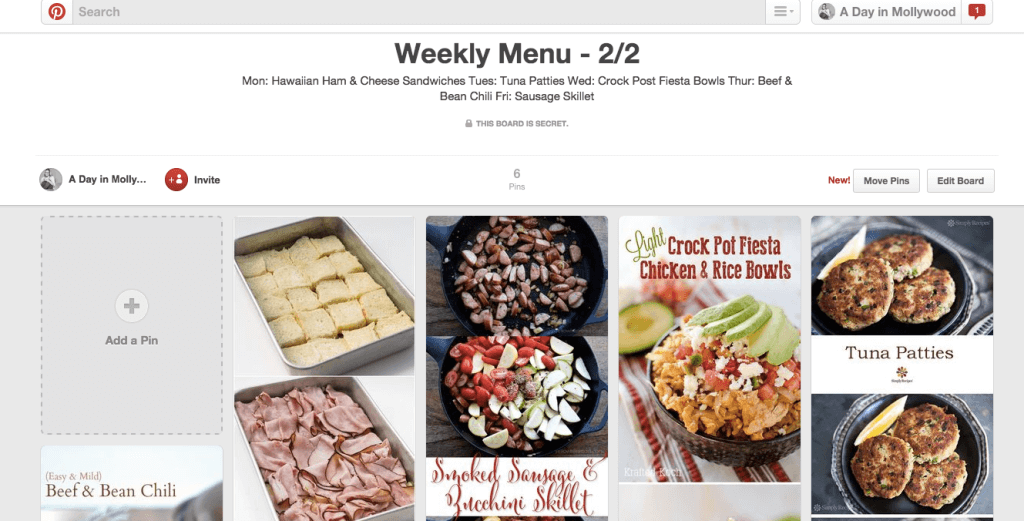 Let's recap the positives!
1. Always available! (phone, tablet, desktop! Paper can be lost – Pinterest cannot!)
2. Easy and fun! (who doesn't like pinning stuff?!)
3. Repeat a week, month or year if you want (way less work than opening up a bunch of cookbooks)
4. Don't bombard your followers with a ton of recipes all at once (beauty of the secret boards, people!)
Okay – go forth and kick meal planning in the butt!
And don't forget to follow me on pinterest – I have been enjoying it so much lately!