It is hard to believe that my husband and I have been together for thirteen years and married for eight of those years. It honestly doesn't seem like that long ago we were in our twenties, newly engaged and just beginning to dream about what our life would look like together.
At the time of our wedding we didn't have any big responsibilities besides our jobs. There was no mortgage payment to make because we rented. There were no kids running into our bedroom after having nightmares.
It was just us.  And we had all the time in the world for passion.
It was a time when date nights didn't require penciling it in on the calendar or scheduling a babysitter. There were long conversations without interruptions, fancy meals without cutting food into tiny pieces and plenty of time was spent in the bedroom. We connected. All.the.time. Physically, emotionally and physically some more.
Then we had kids. And I'm not lying when I say they are the best thing that ever happened to us. I'm so proud of the family we've created with our love. But that doesn't mean I can't admit that having children can put stress on even the strongest of marriages. You are pulled in a million different directions, most the time away from one another. And instead of hunting for love and passion, you find yourself hunting for a missing shoe.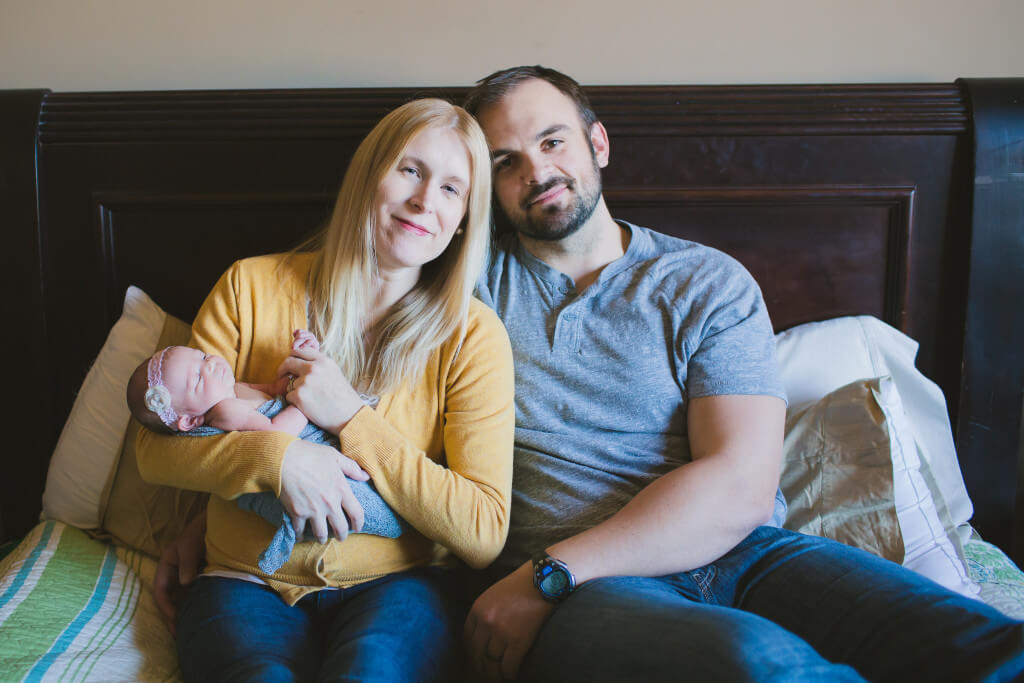 With each child we've had to bend and flex and mold our marriage into something new. These changes aren't always easy. The love and respect is still there. It's the intimacy that is missing. We both have always had so much respect for each other. When I look at him with our kids it's like falling in love all over again.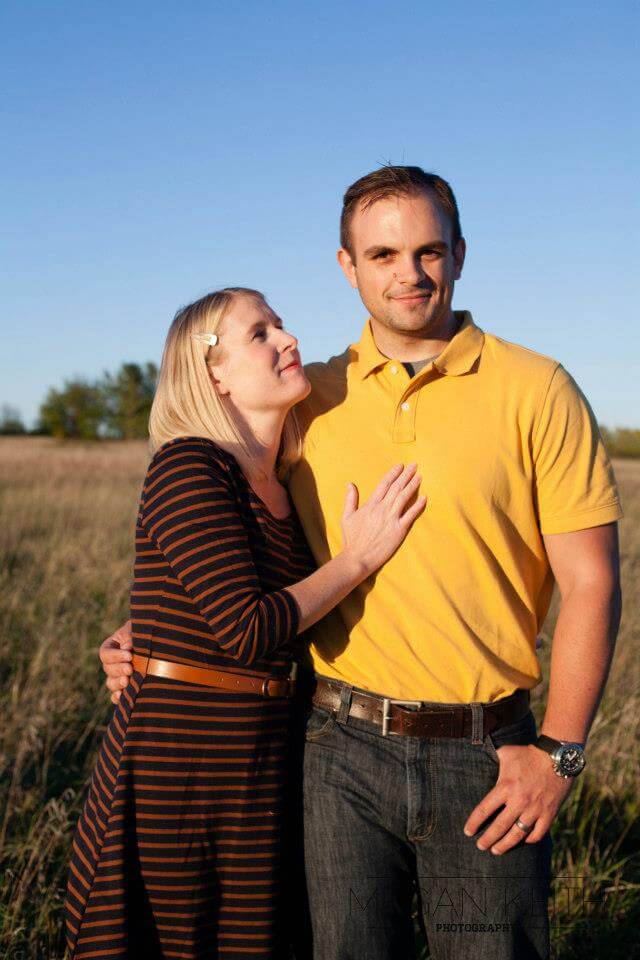 But it's hard to remember to show how much you love someone when you're exhausted, feeding an infant every other hour and can't even remember what day it is! Let's just say that 2014 was a year of growth for our family. But I think we're both MORE than ready to put the focus back on our marriage.
We're on a hunt for love, for passion, although we know it's not really lost.
No matter what we've been through the love and adoration has always been there. What often gets lost in the years of baby-raising is that spark, that oomph, that va va voom. You know what I'm talking about ladies and gents.
So I've decided to surprise my main squeeze with something I've never done before. Something I know we'll both enjoy. A surprise scavenger hunt on Valentine's Day! I seriously cannot wait to do this for him. I designed cards for the scavenger hunt and I just know he's gonna love it.
Card #1.
Place it right in the driver's seat so that it's the first thing he sees when he gets in the car. Now, is it a little cruel to send him off knowing he has to wait to find out what this is all about? Maybe a little. But that's part of the fun, right? I guarantee he'll be thinking of you all day. And if he calls and wants to know what's going on tell him that he will spoil the surprise and don't ask again.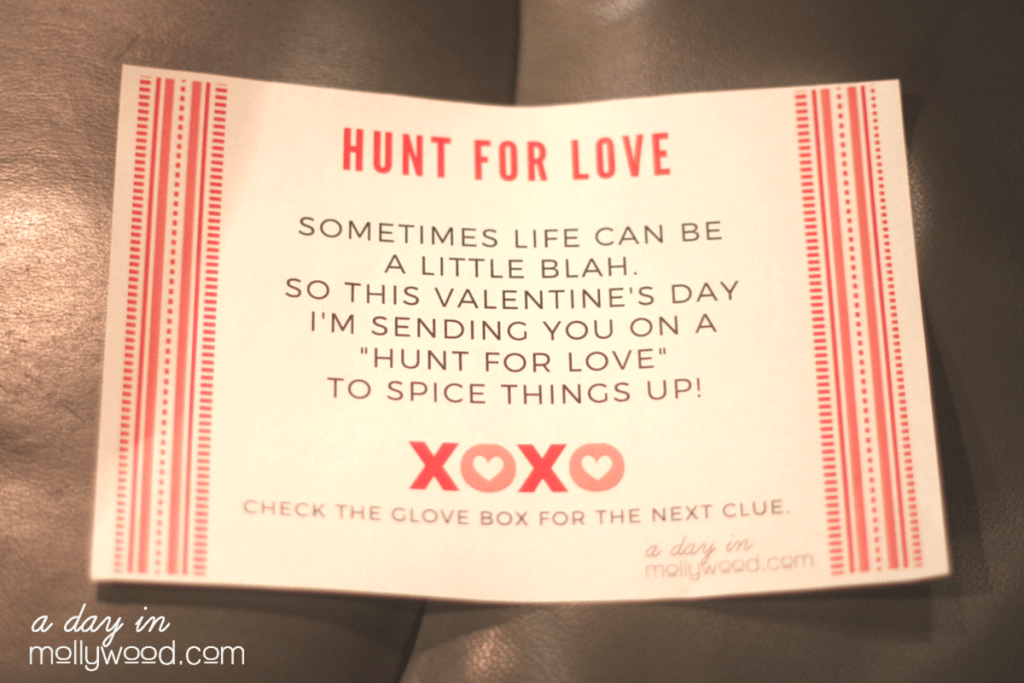 Card #2.
He will find the next clue in the glove box of the car. Buy something new to wear later that night and put it with the clue. See there? You're flirting and you're not even with him.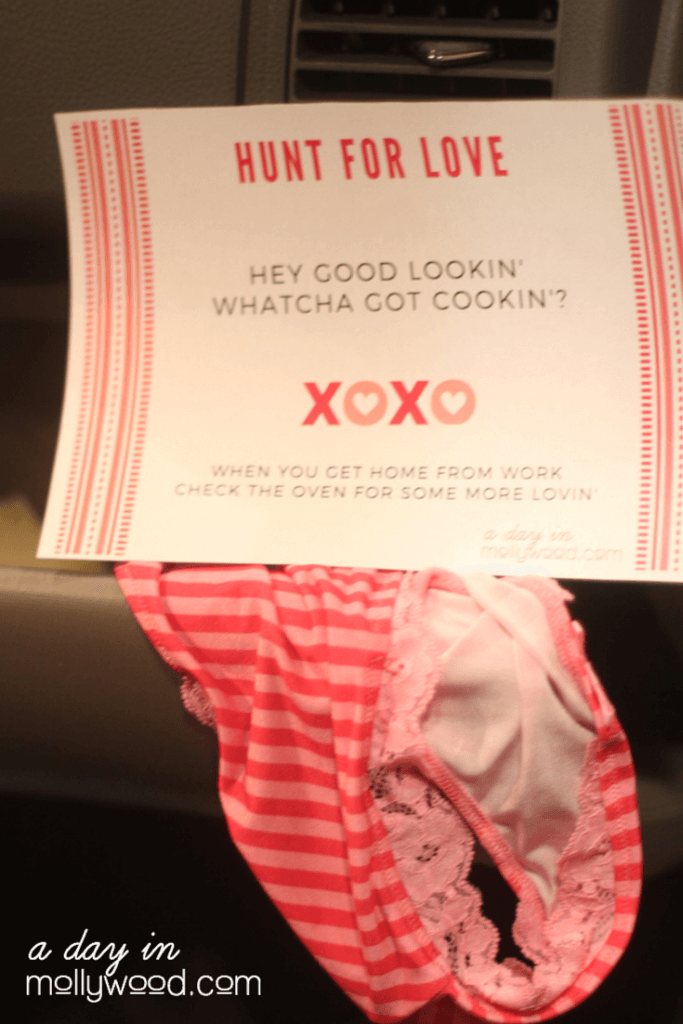 Card #3.
Fix him his favorite meal and dessert. If you don't have time to cook get take out! Enjoy a meal together before he heads to the bedroom. Mine will hang from the microwave so he sees it first thing.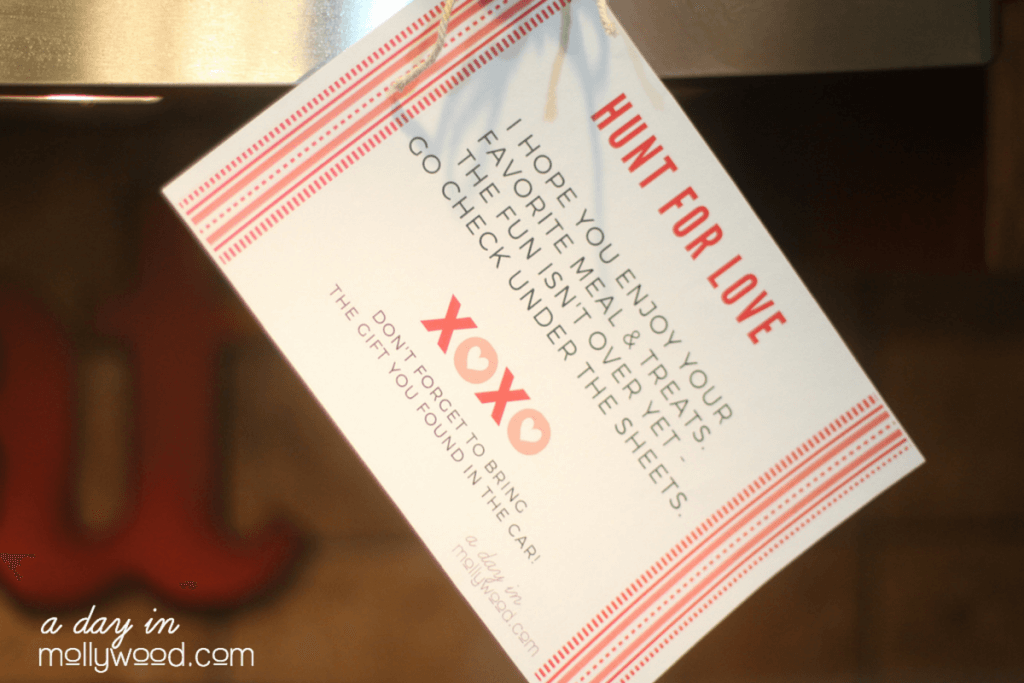 Card #4.
After dinner and dessert, he will follow the clue to the bedroom where you can put the last card (and a little something extra) under the covers.
I decided to purchase K-Y® LOVE passion and sensuality, which is exclusive to Target for Valentine's Day (along with a Cartwheel deal for 10% off K-Y® LOVE through the 14th). Find them in the feminine care aisle! I think it's the perfect surprise for our hunt to rekindle the fire between us.
What are you plans for Valentine's Day? If you'd like to go on your own "Hunt for Love" you can download the scavenger hunt cards for free. I promise he'll love it!