This is a sponsored post written by me on behalf of Bestway. All opinions are 100% mine.
We probably won't make it to the beach this summer and I gotta tell you – I'm super sad about that! I love the beach so much. In fact, there's a part of me that feels like I was meant to live near a beach. The sand in my toes any time I wish would be amazing. But, that's just not to be.
What do you do when you can't go to the beach? You bring the beach TO YOU! I've been thinking about our summer bucket list and realized there is so much fun we can have right in our own backyard! Wanna bring the beach to your backyard? Here's some great ideas to get you started.
1. Build Sandcastles
Now I know what you're thinking. How are the kids supposed to build sandcastles with no sand?! And I'll tell you – a sandbox. They have very reasonably priced sandboxes at the store or you could build one from free plans you can find on pinterest like my neighbors did (it's super awesome, by the way). Your kids will LOVE it and it will keep them busy. Will they get dirty? Of course. But hey, that's what summer is all about, right?
2. Buy the Beachwear
Lounge chair, beach towels, flip-flops, striped umbrella. If you wish you were on the beach just PRETEND YOU ARE. Your neighbors will think you've gone crazy. So what. In fact, buy one of those tacky little signs that says, "Gone to the Beach" and put it on your front door. Then tell your family you're having a pretend beach day in the backyard. I promise – your kids will think you're the coolest.
3. Make Waves
If you're not lucky enough to have a pool in your backyard there are other awesome ways to provide a day of water fun! When we took the boys to the beach for the first time in 2013, they loved boogie boarding. Obviously that's not an option when all you've got is grass! So the H2OGO! Water Slide is where it's at. It comes in a single, double or triple slide and has a Speed Ramp™ to provide a safe landing. This is the next best thing I can give them! And hey, you know we're buying the double, right? You can buy it at Amazon.com, Walmart.com, Target.com and Toys R' Us.
4. Sound it Out
One of the best things about the beach are the sounds all around you. Seagulls calling, waves splashing, a ship's horn in the distance. Buy a CD or download something and make sure to play it loud. You've got to have the sounds to really capture the essence of the ocean!
5. Put an Umbrella in Your Drink
Why is it they only do this in Mexico or the Caribbean. I say, a fruity drink with a little umbrella in it is necessary no matter where you live! Mix up a virgin daquiri sure to cool everyone off on a hot day. Put an umbrella in it and your kids will really get a kick out of this special frozen drink you made for them!
_______________________________
Now I'm really ready for summer, aren't you? To kick things off one lucky reader will win an H2O GO! Water Slide so they can turn their backyard into a beachy dream! All you have to do is comment and tell me what your favorite beach is and I'll choose a winner at random.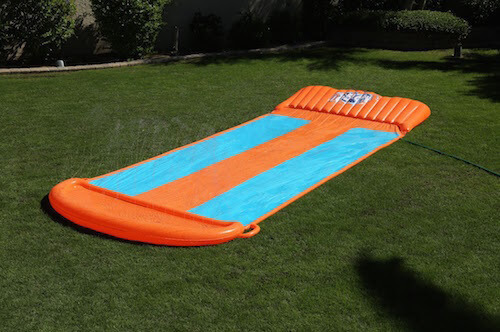 Please Note:
H2OGO! is not for adult use, and is not for children over 12 or under 5 years of age.
This product is not for use by anyone over 5 feet tall or weighing more than 110 pounds.