When I trained last spring for my first 5k it was an 8-week program using an app on my phone. Due to the onset of depression this past fall, I lost steam and have had to go all the way back to week 5 of my 5k training. It's really hard getting out of bed some days. So you can imagine how difficult it is to tell myself to get up and go running.
Still, I try my best. Some weeks I run only once. Other weeks I manage to force myself to exercise more. It has much less to do with what my body wants. My body is screaming at me to get up. I always feel better after I do. But my brain is telling me to stay put, warm under a blanket. It just feels safer there.
It's amazing to me that during my depression I have somehow managed to run my second and third 5k. At the time I was running them I didn't really think it was a big deal. I didn't think I was anything special at all. Not like running my first 5k where I powered through and ran the whole thing without walking. Then, I felt really proud of myself.
My second and third runs have been more of a struggle. I had to stop and walk multiple times. My most recent run was in 30 degree weather and I knew right from the starting line that it was going to be a miracle if I crossed the finish line. My whole body hurt. It hurt to feel my feet hitting the pavement. My lungs burned breathing in the cold air. It hurt emotionally too. Because, if I'm being honest, I just wanted to quit and go back to sleep.
I didn't quit though. I ran across the finish line. But I still felt inadequate and defeated.
A few days later I received notice that the finish line photos and times were posted. I didn't care to look at the times. I never really do. Because I know my times are not impressive.
But I did want to see my photo. I was scrolling through trying to find me in my red jacket and there I was . . . with a slight smile on my face.
I decided to scroll backwards to see if there was one of me further back. I stopped at this photo because I knew that was me in the background. Although it was obviously not meant for me, something in the left of the photo caught my eye.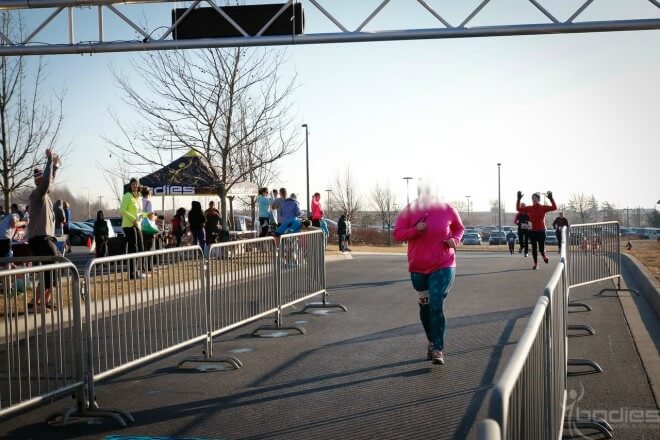 There, as I approached, was my biggest cheerleader. He finished about two days before me 😉 but he stood on the sideline and cheered for me as I made my way to the finish line. Sometimes it's hard to see and acknowledge the people who are in our corner.
No matter what we've been through. No matter how many times I've caused him stress and worry and uncertainty. He has been there, encouraging me to keep going no matter how much I want to quit.
I can't even name a time when he has disappointed me. He has always, always been there. My constant. My knight.
When he brings me flowers it isn't because he's done something wrong. It isn't because he's trying to prove his love for me. It's because he genuinely wanted to brighten my day.
He really is my favorite person. And I thank God that somehow, even when I want to quit, he is there to stand by me.