I just love summer, don't you? I feel much happier and more relaxed during this season. Since the weather is warm it's so nice to spend time outside soaking in some sun. With each new summer season I always want to spruce up our patio so we can enjoy it as an outdoor living room.
I'm sure you've seen photos of amazing outdoor living rooms. I drool over them daily and finally decided to bring the indoors outside where we spend so much time. Here are three things I did to create an inviting outdoor living room.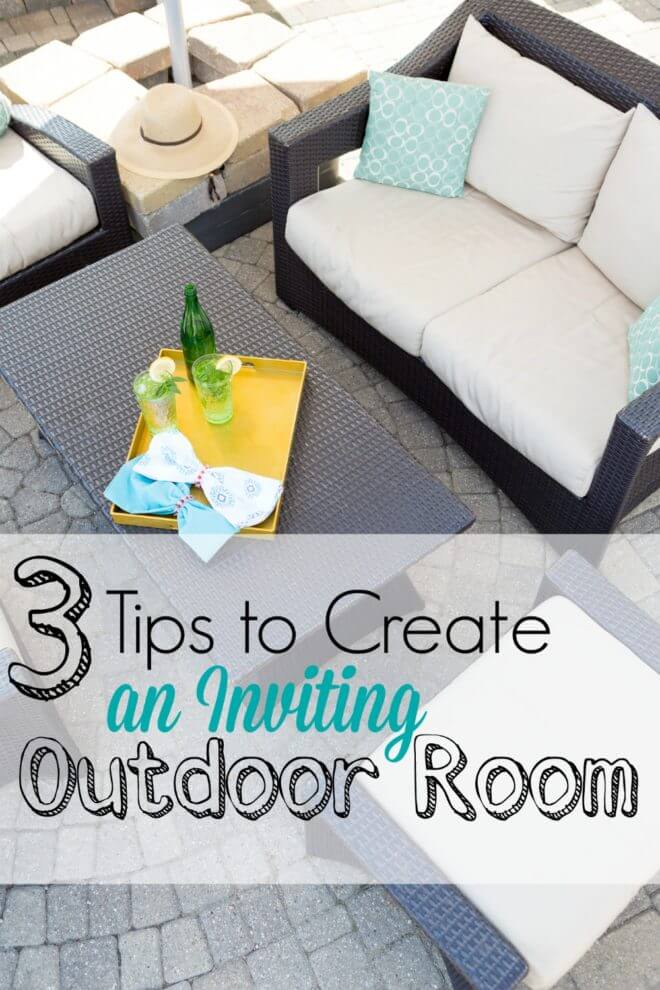 Bring indoor elements outside
Break all the rules and bring things from inside your house to your outdoor space. There are so many things you can buy now that can be used both indoors and out. Add color that pops with a rug. Or give it a festive feel with string lights. If you have a pergola, like we do, you can even add curtains creating more privacy.
Evoke all five senses
You can increase the positive experience by evoking all five senses. Place citronella candles in your surroundings for a pleasant aroma. Invest in a cute bar cart or rolling cooler and stock it with your favorite drinks. Use a Bluetooth speaker to play relaxing music.
Make it comfortable
No one is going to want to spend time in this space if it's not comfortable. Thankfully, the stores have so many cute accessories to make it so you or your guests will never want to leave. Maybe it's a conversational set with stylish cushions. Use colorful pillows and pepper them around the area. There are plenty of ways to make outdoor settings feel comfy. Who knows? You may end up taking a nap.
An outdoor living room increases the amount of useable space within your home. Large or small, these ideas can be used to make your patio beautifully inviting for the season and help you enjoy summer even more.