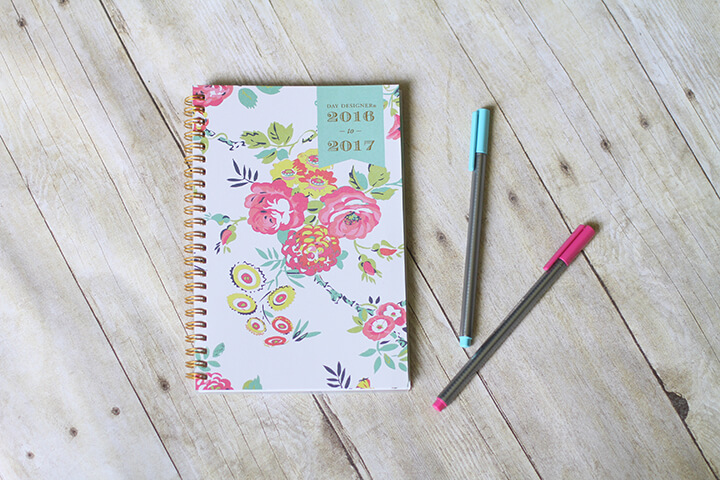 I have to admit it – I am not a planner. I never have been. In my 37 years I have never used a paper planner to keep track of anything. I'm not really sure how I've survived this long. But my memory was always good enough for me to remember things. Until it wasn't.
I've tried to use a calendar app on my phone and until recently it had been working pretty well. I would set up reminders to pop up a day before an appointment or assignment was due. And my husband was able to put in his work schedule so I would always know where he was for that day. But for some reason the app started randomly logging me out and I was missing things right and left!
I realized I was going to have to change my system because it wasn't working anymore.
Instead of ordering a really fancy, expensive planner I went to my trusty Target and found a cute little planner called a Day Designer. I also bought myself some nice pens thinking it might help me get into this whole planning thing. I realize some people take their paper planners very seriously. Like, they spend a ton of time adding stickers and washi tape and um, yeah. I don't think I could keep up with all of that.
But so far my minimalist approach is working pretty well. Each day I take a look at what is going on for the week/month ahead. At the top of the weekly pages it has "This Week's Top Three" and I love being able to pick the three most important things I must focus on each week. It doesn't overwhelm me.
I chose a small planner because I wanted it to fit into my purse and take it with me. That way I can pull it out and write in anything new while on the go. If my planner sat at home I wouldn't remember to write anything in it. So a small planner works best for me.
I am really hoping this will help me stay more organized instead of looking like a fool when I miss an appointment or have no clue what is going on.
Tell me, are you a paper planner? Phone planner? Or both? I would love some tips on how to make planning work for me!