Today I'm going to discuss a hot topic in the blog world – sponsored posts.
Last month I conducted a reader survey. The last time I asked for my readers' thoughts and opinions was in 2011. So I thought it was time I figured out who is reading my blog. I also wanted to find out why you are reading and what you might like to see more or less of in this space.
In 2010 I did what's known in blogland as a "rebrand." I moved from blogger to wordpress, changed my name and got serious about doing what I love most – writing stories.
During the next couple of years a lot of amazingness happened here. Awesome opportunities came my way but more importantly, I wrote some of my favorite stories. Stories that came straight from my heart. I wasn't doing it to make money, although I admit that would have been nice. I was doing it because I am passionate about storytelling. I come alive when I write.
I've been blogging for over eight years and I've done a few sponsored posts here and there. It wasn't until the end of last year when I felt a pull to try harder at making money while blogging. I started following other bloggers who were successful at making money online. Some of them I was blown away with what they've been able to accomplish in their online spaces.
I read a story about a mom who was homeless. Her husband left and she was living in a homeless shelter with her kids. Now she is making a living through her very successful blog, helping other women live a better life. I mean, God bless her! She has worked so hard and it paid off in big ways.
Obviously, that is not my story. But I truly believe you get out what you put in. Isn't that the truth with just about everything in life?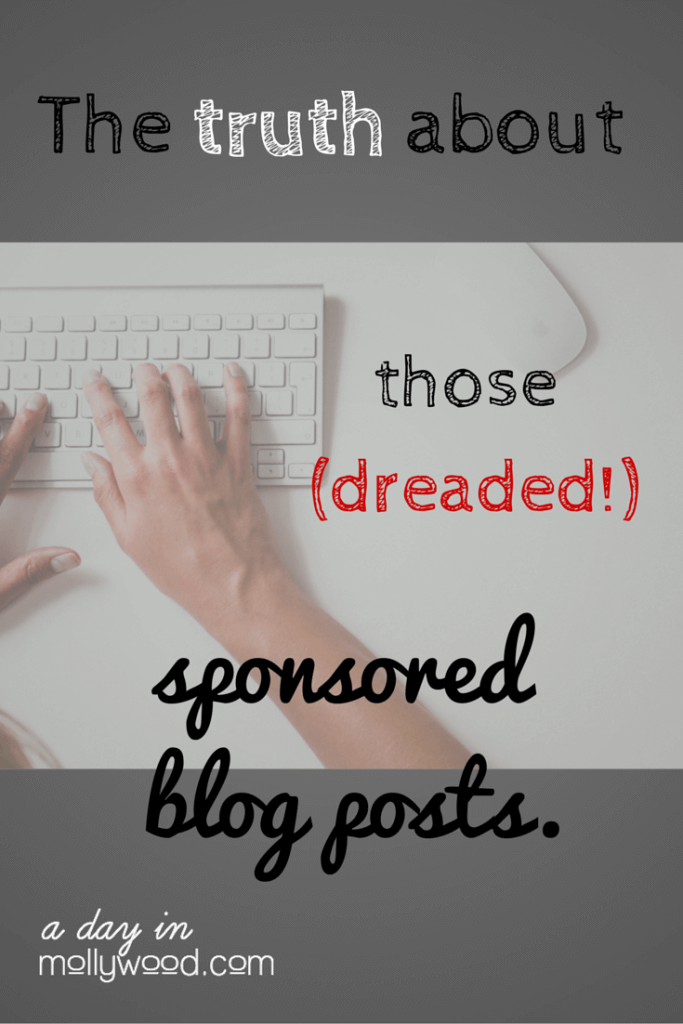 So in January I started another rebrand – which is the blog you see now. My mission on this blog is to encourage you to thrive when motherhood gets messy. And I'm not just talking about spilled milk here. I'm talking about the bigger messes inside of us that motherhood often create. The ones that cause us to feel alone in our journeys.
During this rebrand I gave myself a personal challenge – if I could increase my pageviews I might be able to make more money for my family. Other bloggers were doing it successfully – why not me? I wanted to give it a try.
As a blogger, I walk a fine line between staying authentic to myself and this space while also making extra money for my family. I receive offers to write sponsored blog posts every single day – and I want you to know – I turn down most of them. Either because they just don't fit with the mission of my blog or I don't have the time to write them.
If you read here you have probably noticed more sponsored content. I realize it can be offputting to see that dreaded disclosure before a post. In fact, you may see it and click away. And I totally get that. I do. I used to be like that – clicking away because blech, they are being paid to say that.
But then I realized that bloggers have just as much right to make money as any other profession out there.
I wanted to be a writer from the time I was a young girl. Until recently, I never knew how to make that happen for myself because I live in an area where there aren't a lot of opportunities for writers. So I decided to create my own opportunity – just like millions of other entrepreneurs out there!
I'll be the first to tell you it hasn't been easy. Every time I publish something I've been compensated to write – I end up feeling a bit guilty.
WHYYYYY?
Why should I, or any blogger for that matter, feel guilty for trying to figure out a way to bring income into their family?
Yes, I understand that some posts can come across as shilling a product. But my philosophy is to share my stories and thoughts with my readers. Just because it has a disclosure before it doesn't mean I don't mean what I'm writing.
And for those that aren't bloggers – please understand the companies and brands don't want us to simply sell their product. Most of them desire us to be forthcoming and many don't even want a "product review" anymore. They want stories. I happen to love that. The brands who give me the freedom to write from my heart, well, those have been my favorite ones with which to work.
On my reader survey, some did say they hate sponsored blog posts and won't read them. I completely understand. I really do. But I'm done feeling guilty because I want to be paid for the time I spend writing. My time, just like your time, is valuable. I honestly don't have a lot of it and I work hard (and stay up really late) to try to provide great content for the brands who have hired me.
But most of all, to try to provide some great stories for you, my readers. You're the reason I continue to write. Your support and feedback is what has kept me writing here for eight years – and counting!